Inside Louis Vuitton's World Cup Trunk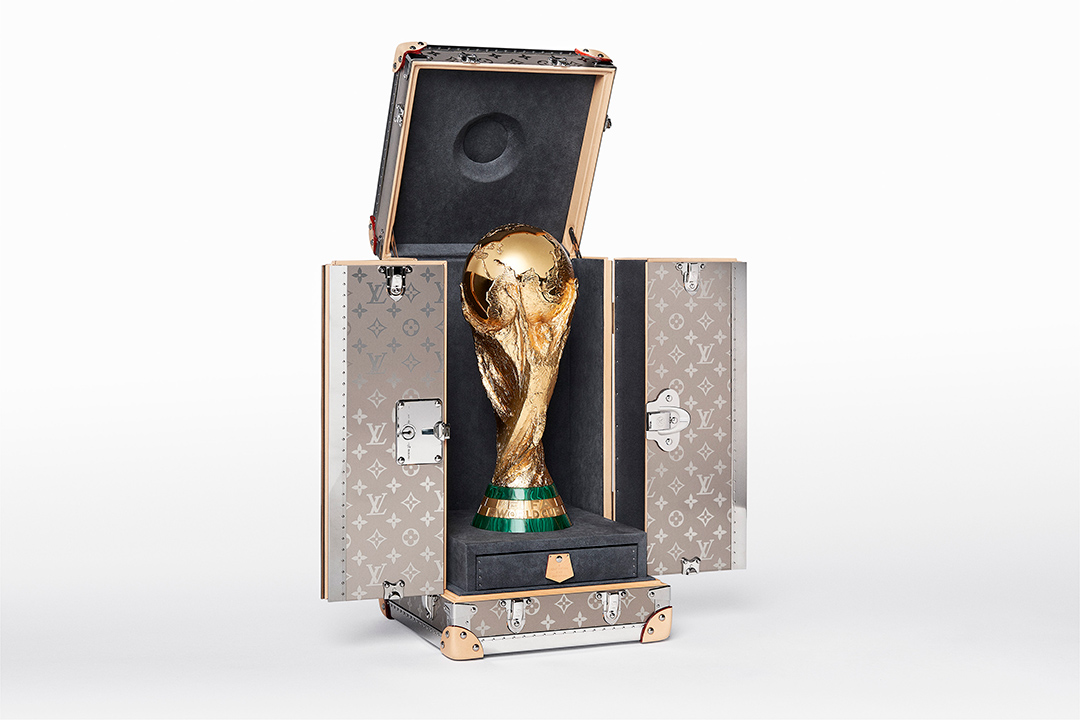 Este año entré en un record personal de no haber visto ni un solo partido de la Copa Mundial. La verdad es que el interés que le tengo al futbol es nulo pero siempre me ha encantado la final, ese juego si me gusta verlo. No se si es porque la emoción de todo el mundo esta efervescente o porque es la culminación de todo un mes de molestias y gente gritando por todos lados. Otro factor que me fascina ver de la final es la ceremonia de entrada del trofeo que cada año, aunque no lo crean, también representa un momento especial para la moda.
Cada cuatro años Louis Vuitton se encarga de crear el trunk que resguarda la Copa Mundial y de esa misma manera, cada cuatro años una supermodelo es convocada para entregarla, la Copa Mundial pasada fue mi amada Gisele Bundchen, este año será Natalia Vodianova. En caso que te preguntaras, el trofeo de la FIFA mide 36 cm de alto, pesa 6.175 kg y está hecho de oro sólido de 18 quilates con una base de malaquita semipreciosa. Para transportar este prestigioso premio, Louis Vuitton ha creado un estuche de viaje como pedido especial – hecho a mano por los maestros artesanos en el taller histórico de Asnières, cerca de París. El estuche, creado para Rusia, está forrado con el hermoso Monograma Titanium, ligero pero a la vez resistente y grabado con láser. Las ocho esquinas del baúl están protegidas con la famosa piel natural de becerro de la Casa, y el candado y los seis broches están hechos de rutenio, un metal resistente color gris oscuro, el cual tiene el símbolo químico, Ru, y obtuvo su nombre en honor al país anfitrión del Mundial de Futbol de la FIFA™ de este año.
No se ustedes pero yo muero por que Francia se lleve la Copa, y que cool sería que a la misma vez se lleve un estuche de viaje de una de las maisons de moda más icónicas de su propia nación, ¿no creen?
This year I have reached a personal record of not having watched a single match from the World Cup. Truth be told, I hold zero interest in soccer much less the World's largest gathering of machismo and sexism. But I gotta be honest, the finale does spark a fire in me, don't know whether it is everyone's effervescent mood or maybe because it represents the end of everything: the chaos, the traffic, etc.
The finale also represents a fashion moment that happens every four years. Believe it or not, fashion is everywhere.
Every four years Louis Vuitton, by special order, creates the "trunk" that guards the World Cup trophy, and every four years a supermodel is asked to deliver it to the soccer field, last year it was Gisele Bundchen, this time it'll be the lovely Natalia Vodianova. In case you were wondering, the FIFA World Cup Trophy is 36cm tall and weights 6.175 kg, and is made of solid 18-carat gold with a base of semi-precious malachite. The Vuitton "trunk" was handmade by master craftsmen at the historic Asnières workshop in France, and boasts a beautiful lightweight yet hardwearing, laser-engraved monogram titanium composition. The trunk's eight corners are protected with the brand's signature natural cowhide leather, and the lock and its six clasps are composed of ruthenium, a strong dark-grey metal.
Don't know 'bout you but I do want Les Bleus to win, and thinking further, would'nt it be cool for France to win and take home a Louis Vuitton tradition case? Seems logical, doesn't it?